About Centre Hall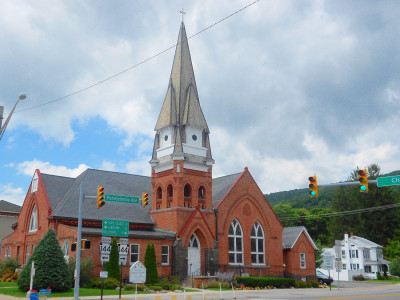 Centre Hall is a borough in Centre County and is located in Penns Valley. The borough has a total area of 0.6 square miles, and its beautiful views and many popular sites make Centre Hall a popular place to live and visit. This town served as a market center for many of the farming communities located in Penns and the nearby Brush Valley. It is home to the Centre County Grange Encampment and Fair, also known to many as the "Grange Fair". Each year, the fair attracts hundreds of thousands of people with rides, entertainment, great food, animal and art exhibitions. Starting as a basket picnic in Leech Woods, west of town, in 1874 by "The Grange", an organization promoting farming and farm life, it is the last remaining old-time tenting fair in the United States and most tents are handed down through generations of families. There is even a waiting list for families who want to have a tent!
The main street is lined with trees and historic homes. On the outskirts of town, the homes come in a variety of styles. In 1884, the Lewisburg and Tyrone Railroad brought passenger service into Centre Hall. In 1910, the Neff Round Barn was built. A significant rural landmark and the first of its kind in Centre County – the barn was added to the National Register of Historic Places in 1979.
Another popular location in Centre Hall is Penn's Cave. Centuries ago, the Seneca Indians discovered this natural landmark in Penns Valley. The famous Penn State Nittany Lion even got its name from the famous legend of the Indian maiden, Nita-nee, who was forbidden to marry her French trapper lover, Malachi Boyer, due to an Indian custom. Malachi was thrown into Penn's Cave to die! There are also stories of Indians using the dry rooms in the cave for storage. In 1885, Penn's Cave opened as a commercial show cavern and in 1976, it was placed on the National Register of Historic Places. It is America's only all-water Cavern, and the tours are given entirely by boat. For decades, people from all over the United States have traveled to the Penn's Cave grounds to enjoy the Nittany Antique Machinery Shows – a large flea market with over 700 vendors. At this fantastic antique show, there are over 800 tractors on display, over 800 campers, and more than 40 parts vendors available on the grounds.
Communities

In Centre County
Centre Hall
Market Snapshot
Properties by Price Range
Active and Pending Property Counts
Median Market Price

$325,000
Average Market Price

$499,964
Average Days on Market

84